Make The Most Of Your Halloween Pumpkins!
Here's to our favorite round, orange squash that brings us so much joy every fall season. It got us thinking that pumpkins should really stick around longer than they do once Halloween has come and gone. So with that in mind, we wanted to share some ideas for how to make them go a little further this year with some bright ideas that make use of, literally, every part of your pumpkin! Just be sure to grab a roll of Sparkle® Paper Towels to help keep things clean and tidy along the way. Ready?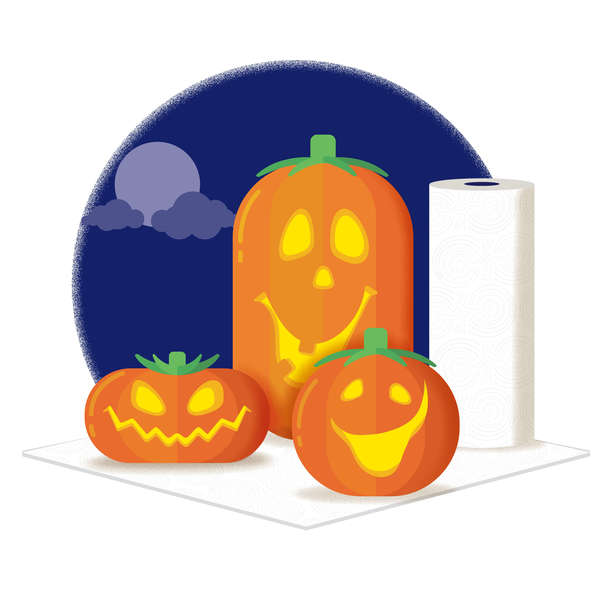 Carve A Clever Face
Okay, this one is obvious—the best part about having a pumpkin is creating a spooky, kooky or just plain silly jack-o-lantern to set outside and keep the ghosts and witches at bay. Whatever type of design you choose is totally up to you—find a template online that you can print out as a guide, draw your own design with a marker or go rogue and freestyle your face. However you choose to approach it, here's some suggestions on how to make it all go off without a hitch:
 
Choose pumpkins in a variety of shapes and sizes that give you plenty of space to play with and inspire designs that make the most of how round, squat, long or lopsided it is.

Set up a covered workspace where you can spread out several full-size paper towel sheets to create pumpkin "placemats" for the inevitable mess that happens when scooping them out and smaller half-sheets to set your carving tools on and wipe clean along the way.

Keep a bowl and a roll of Sparkle® Paper Towels handy. It's much easier to scoop out the contents of your pumpkin to a nearby container to separate the seeds from the stringy parts—plus you'll need plenty of paper towels to get the orange goo off your fingers and for clean up afterward.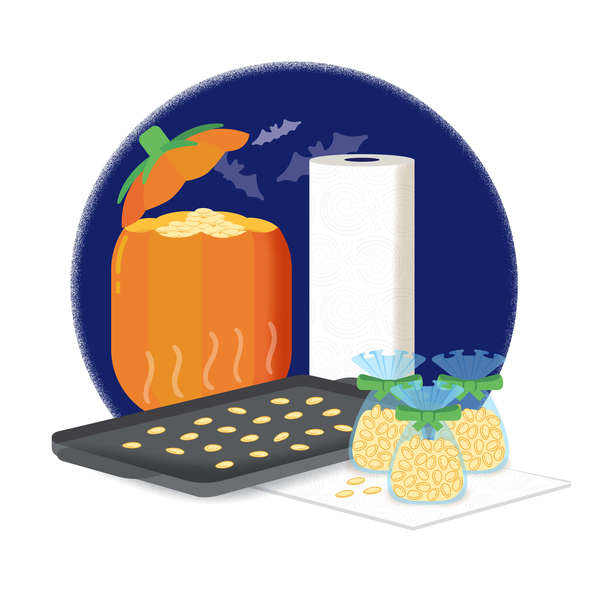 Save Those Slippery Pumpkin Seeds
Whoever first thought of roasting pumpkin seeds as a snack is, in our humble opinion, a genius. With just a little effort to separate the seeds you've scooped out, you'll get even more joy out of your jack-o-lantern with a delicious snack you can personalize to your specific taste.
 
Start by separating the seeds from as much of the larger chunks of stringy pulp as possible—transferring the semi-clean seeds in batches onto paper towels to contain the mess. Once separated, put them in a large bowl of warm water and swirl them around to help loosen up the remaining pulp. Using a slotted spoon, transfer the wet seeds onto a flat surface covered with paper towels and pat them dry. When all the moisture is gone, you're ready to start roasting. Here's a basic recipe you can modify with some optional ingredients…happy roasting!
 
Ingredients
3 Cups of Raw Pumpkin Seeds

1 Tablespoon of Olive Oil

¼ tsp. Salt
Optional Ingredients
1 Tbsp. of Chili Powder

½ tsp. of Paprika

¼ tsp. Garlic Powder

¼ tsp. Black Pepper
Instructions
Preheat your oven to 325 degrees, then line a baking sheet with aluminum foil and set aside.

Mix your olive oil, sea salt and pumpkin seeds together in a medium-sized bowl. If you plan on using other seasonings, add them in at this time as well and toss everything evenly to generously coat all the seeds.

Roast the seeds for about 15-20 minutes, tossing them once about halfway in between the baking time. When ready, the seeds will be a golden brown color and perfect for snacking on once they've cooled down.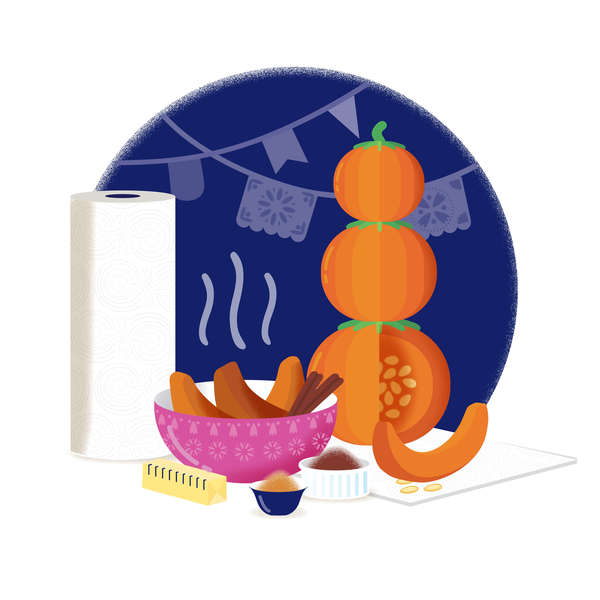 Pumpkin Candy, Por Favor!
So our last suggestion for how to make the most of your pumpkins this season borrows from a traditional Mexican recipe for pumpkin candy treats, also known as Calabaza en Tacha, that we love for its sweetness and simplicity. Plus, it's such a clever use of the pumpkin that ensures it doesn't go to waste. That said, you want to use your smaller, decorative "sugar pumpkins" rather than the larger carving style, because these really do work best for preparing pumpkin-based treats. When ready, serve these up with plenty of Sparkle® Paper Towels on hand for those sticky fingers!
Ingredients
1 Small to Medium Sugar Pumpkin (Approx. 5 lbs.)

2 Cups of Light Brown Sugar

½ Stick of Butter (¼ Cup)

1 tsp. of Ground Cinnamon

½ tsp. of Ground Cloves (optional)
Instructions
Carefully cut your pumpkin in half and scrape out the stringy pulp and seeds. Cut the pumpkin into 1-inch cubes and remove the skin on the outside—try not to cut into the actual flesh too much.

Place the chunks into a large saucepan and cover with water, then bring to a boil. Reduce heat and simmer uncovered for another 15 minutes or until the pieces begin to feel tender.

Remove the pumpkin chunks with a slotted spoon and save the water for your next step.

Using 1 ½ cups of the pumpkin water in your saucepan, add your brown sugar, butter, cinnamon and optional cloves. Bring the mixture to a boil and reduce the heat, making sure to stir occasionally. You're looking to create a syrup with this step.

Add the pumpkin chunks back to the pan and simmer for about 15-20 minutes or until the syrup thickens.

When ready, you can serve this delicious Mexican treat with milk or cream or simply eat it as is. Disfruta!